As part of our Vendor Spotlight Series, we are featuring this article from one of our beloved Vendor Partners, Biscuits & Berries. The team at Biscuits & Berries executes beautiful work and their attention to detail really shines in all of our event spaces here at The Cable Center. We love working them and their expertise surrounding catering options and event design is unmatched! Keep reading to learn about all the different catering styles and options our partnership can pull off to make your event perfectly yours!
Types of Service Styles
Holy options! There's a lot to think about when planning mealtime for your guests. What used to be a simple decision- formal plated dinner or casual buffet, has turned into a maze of options in the modern catering world. Don't fret, Biscuits & Berries is here to help you navigate all possibilities! If this post doesn't help you decide on a service style for your event, don't hesitate to reach out one of their knowledgeable and friendly Event Designers- they've seen it all!
A few things to consider when deciding on the best service style for an event include timing of your event, duration of your event, alcohol service, and your unique attendees. These details will help you determine whether a full meal is necessary, or if some lighter, casual options would work best. Once you've assessed your event, consider the "feeling" you'd like to provide. Is your vision upscale and elegant or a bit more laid-back and casual? Do you want to promote mingling and guest interaction? Or would you prefer that guests experience full service at their tables?
Plated Service and Family Style Catering
Plated and family style dinners are often preferred because they allow your guests to stay seated while their food is brought out to them. These options exude tradition and elegance but can sometimes feel a bit restrictive as your guests are limited to the food that's brought to them. An occasional criticism for family-style service is that tables can get a bit crowded (glassware, centerpieces, platters, oh my!), and it can be slightly uncomfortable to pass food around while trying not to knock anything over! We recommend minimizing the footprint of your centerpieces and place settings when serving a family style dinner and limit your round tables to a maximum of 8 guests. While we work hard to expedite any type of service, plated and family style dinners tend to run quickly as our team is able to swiftly and efficiently serve tables.
Buffet Catering
Buffets and stations tend to be very guest friendly as they allow people to choose what and how much food they'd like. The downside? They have to get up and get it. Perhaps not quite as elegant, we find that guests enjoy making their own plates, and we create beautiful displays that rival the common conceptions of catering buffets.
Catering Stations
Stations are the most customizable option for your guests as it allows them to create or dictate how their dish is made. They also offer more of an experience than any other service style. If creative food is the highlight of your event, this is the option we commonly recommend! The only downside when considering stations for your event is that they can take a bit longer for all of your guests to get through. Many items are cooked to order and each station contains a multitude of options (decisions take time!)
Heavy Appetizers and Grazing Stations
Lastly, heavy appetizers or grazing stations are perfect for shorter, more casual affairs. Just keep in mind the length of your event and the open-bar aspect. While this is commonly a more cost-effective option, it's not conducive to long events where guests will be drinking throughout. In those situations, it is highly recommended a more substantial meal.
A blend of service styles is also common. pair a plated salad course with your buffet dinner or add a couple of interactive stations during cocktail hour with a plated dinner following.
There are many options and customization when it comes to creating this experience for your guests! The Biscuits & Berries team is available to help you come up with the best approach for your event. Check out their website and get in touch here.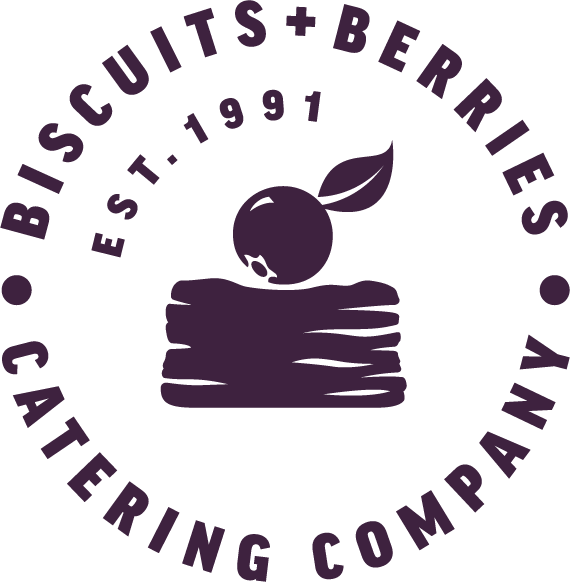 Special thanks to Luke Woodward of Biscuits & Berries for authoring this article and providing great insight into the world of catering options for events. Biscuits & Berries Catering Co is located in Golden, CO and specializes in serving food that is of the highest quality and providing service that greatly exceeds guests' expectations at every turn.

Follow them on Instagram: @biscuitsandberries