Lighting is the most powerful tool available to create and transform the ambiance of your event. At The Cable Center, we are known for our floor-to-ceiling, sparkling windows and unique architecture that allows beautiful natural light to pour into our Daniels Great Hall.
During the day, the Colorado sunshine works its magic, illuminating our building and creating a bright, crisp, and clean indoor atmosphere. By night, the windows reflect the city lights and portray a certain level of drama and romanticism, while becoming the perfect canvas for creative lighting design.
Let's dive a little deeper into the possibilities of lighting during your event at The Cable Center and see how the sky's the limit!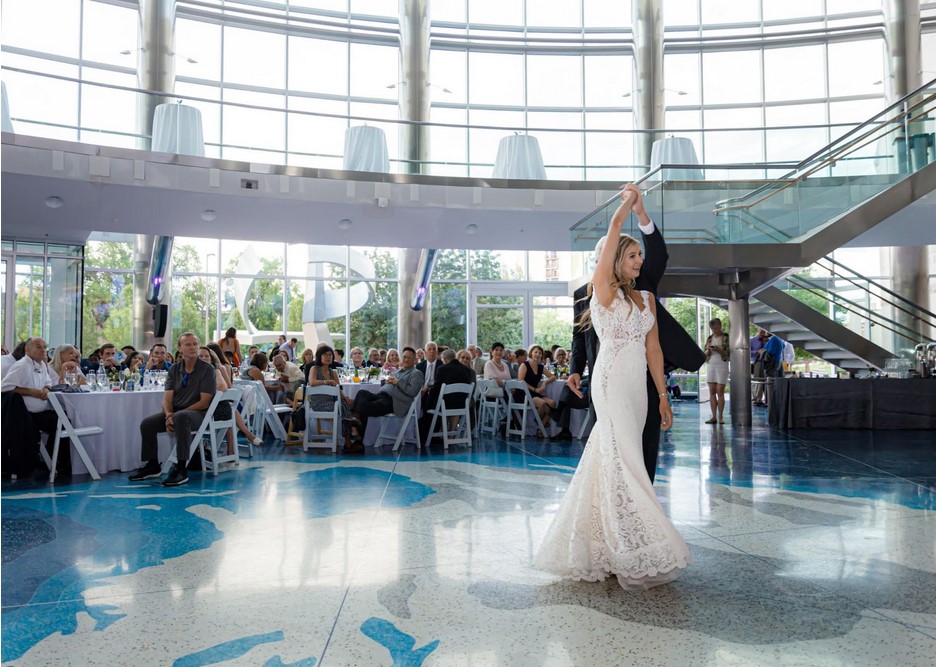 Natural Light
Incorporating natural light into your event concept not only means lighter and brighter (and Insta-worthy!) photos, but a fresh and invigorating backdrop that energizes the whole space for your guests.
Perfect for parties, conferences, and holiday celebrations, our Great Hall's impressive, three-story glass entry, panoramic views, and grand staircase make a dramatic statement — ideal for an elegant reception, celebration, or gala. The Great Hall l accommodates 300 guests for a sit-down dinner, or 500 for a reception-style affair. Overlooking the main floor's open atrium and "map of the world"-inspired terrazzo floor, our 360-degree Mezzanine level can provide the space for additional guest seating, a separate cocktail reception, or even serve as a silent auction or exhibit area.
Lighting Design
Come nightfall is another story. This is the time to let a custom, indoor lighting concept create the perfect mood for your event. Do you want it to be classic, romantic, or modern? Do you want to light that is soft and warm, or bold and contemporary?
Choosing the right lighting is essential to creating a unique event. From bold and vibrant colored lighting to creative projections, lighting designers can help you achieve this vision. Plus, you can project the light onto ceilings, floors, and walls making it a great way to add depth and visual interest to your event or dance party! Thoughtful event lighting also adds ambiance and enhances other elements of your decor, including centerpieces or floral arrangements. You can even use lighting to direct your guests through various parts of your event and curate a one-of-a-kind experience.
At The Cable Center, we work with the best vendors that know exactly how to bring your vision to life in our grand space. Check out some of these photos from our partners at LMD Productions that took the idea of light design to a whole new level! They truly light up our lives – and our events!